Bring yourself a museum masterpiece at home or work
In the various periods of vessel's history, the shipbuilding industry has always produced a variety of ships for various purposes and uses. Here, based on the museums and collectibles, samples and exhibits, ornamentation and decoration, we divide the products into three "Delicate", "Demonstrative" and "Decorative" categories, which can be chosen by the enthusiasts according to their taste.
Todays, not only in public spaces, but also in many offices and bureaus, as well as private homes, we see models that attract the attention of viewers for hours. Now after more than twenty years of specialization and experience in this field, BlueArt workshop is proud to be able to produce fine replica ship models with real handmade details for Personal and Public purposes. We hope to see one of our ships at your home or work in the future.
This category (mostly ships), includes models between 60 and 150 cm long and their construction will take 2-3 years
This category (mostly vessels) includes models between 40 and 60 cm long and their construction will take 1-2 years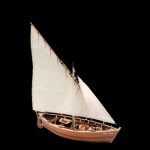 This category (mostly boats) includes models between 20 and 40 cm long and their construction will take several months to a year