The years of world discovering
Why vessels? Why sailing? What is the historical significance of ships? In the not-too-distant time when the earth's globality was uncertain and many continents and territories were still undiscovered, sailing was one of the main pillars of the progress of each country and society.
Thousands of years ago, there were always a number of people living together and gradually forming first colonies and build cities, they preferred to settle along a shore, river, lake or seas. Water is not only a courtyard liquid, but also a great source of food for human beings. At times where there was no borderlines, seizing the water was counted as a protecting of soil and life.
Each year, historic researchers and seekers spend a lot of time and money researching the history of many ships that are lining up even under the thousand-meter-long blue ocean. Today, more than any other century, the significance of these historical myths has been revealed to anyone. To the extent that various countries dispute the rights of these historical monuments.
In this regard, each region and country has a history of sailing, knowing it is not worthless. Here we have tried to give you a small part of this date, with the interest of the ship models that are being built at this workshop. We look forward to your attention.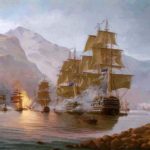 Discover the most important and impactful historical events; Like the Battle of Trafalgar, Spanish Armada, Galleons, and more
Meet the influential figures of explorers, navigators, cartographers, and captains; Those who made the History of maritime Navigation
Explore the ships that split the chests of the waves on their adventurous voyages and took pride in the transportation, trade industries and battles
– Royal Museums Greenwich
– South Street Seaport Museum
– Maritime Museum Amsterdam
– Internationales Maritimes Museum Hamburg
– Mariners Museum Newport News Virginia
– Britannica Encyclopedia
– Encarta Encyclopedia
– Wikipedia Encyclopedia
– Greenwich Maritime Institute
– State University of New York Maritime
– Plymouth University
– Institut für Meereskunde – Universität Hamburg
– Spain Maritime University of Salamanca
– British Commission for Maritime History
– National Maritime Historical Society
– San Diego Historical Society
– Scripps Institution of Oceanography Library
– National Library of Australia
– Book of Caroline Alexander – The Bounty
– Book of Anne Salmond – William Bligh in the South Sea
– Book of Richard Hough – Captain James Cook
– Book of Rob Mundle – Cook
– Book of Sean M.Heuvel – From Across the Sea
– Book of Arthur Bryant – Nelson
– Book of W. H. Fitchett – Nelson and his Captains
– Book of Geoffrey Bennett – The Battle of Trafalgar
– Book of Brian Lavery – Nelson's Fleet at Trafalgar
– Book of Robert Hutchinson – The Spanish Armada
– Book of Neil Hanson – The Confident Hope of a Miracle (The True History of the Spanish Armada)
– Book of John Winton – History of the Royal Navy
– Book of Roy Adkins – The War for All the Oceans
– Book of N. A. M. Rodger – The Command of the Oceans
– Book of Max Adams – Admiral Collingwood
– Book of Rolf Strootman – Empires of the Sea
– Book of Sebastian Junger – The Perfect Storm
– Book of Lincoln Painl – The Sea Civilization (A Maritime History of the World)
– Book of Kevin Jackson – Mayflower (The Voyage from Hell)
– Book of David Abulafia – The Boundless Sea
– Book of Clark B.hinckley – Christopher Columbus
– Book of Patrick O'Brian – HMS Surprise
– Book of Patrick O'Brian – Master and Commander
– Book of Patrick O'Brian – The Thirteen Gun Salute
– Book of Patrick O'Brian – Post Captain
– Book of Patrick O'Brian – The Fortune of War
– Book of Patrick O'Brian – The Surgeon's Mate
– Book of Patrick O'Brian – The Mauritius Command
– Book of Patrick O'Brian – Blue at the Mizzen
– Book of Patrick O'Brian – The Ionian Mission
– Book of Patrick O'Brian – 2I
– Book of Patrick O'Brian – Desolation Island
– Book of Patrick O'Brian – The Letter of Marque
– Book of Patrick O'Brian – The Golden Ocean
– Book of Patrick O'Brian – Treason's Harbour
– Book of Patrick O'Brian – The True Love
– Book of Patrick O'Brian – The Far Side of the World
– Book of Patrick O'Brian – The Wine Dark Sea